Natural stair runners offer an exciting range of weaves ; but which one to choose for your home.
After 15 years of fitting and designing natural stair runners in literally thousands of homes here are our findings . I hope they help you to make an informed choice , and result in an outstandingly beautiful stair runner project !
Coir Natural Stair Runners
Coir has a an undeniable ethnic charm . A centuries old favourite ; coir is favoured for its durability and matchability . This is a great choice if you have a high traffic area and you want a designer look .
Set its rugged good looks against a clean white painted staircase and your in designer heaven .
Stain resistance score is high . If you want to be really safe you can add Intec stain protection .
The built in oils in coir , protect against mildew, damp and carpet moths .  A case of nature protects nature !
Coir is resistant to bacteria , coupled with its mildew resistance , it is a breath of fresh air to asthmatics .
We have offers from 99 pounds for a whole stair runner .
Have fun building this winning runner into your design while its on offer !
Sisal Natural Stair Runners
Sisal is considered the rolls royce of natural flooring – Extremely hardwearing this is the refined tough guy of the flooring world .
Sisal is free of all toxins and chemicals like our products and is also anti-allergenic.When you choose to this the only thing that takes your breath away is the stylish design .
Sisal's stand out quality is its ability to take dyes well. But  why is that important you may well ask ? Many reasons :
1. It gives you a choice of colors from dark chocolate to light Honey for your natural stair runner .
2. It produces a natural high luster . This is a very pleasing effect analogize to varnishing a piece of wood to show the grain .
3. It is hard wearing and fairly stain resistant . You can always protect with Intec .
4. The price is higher than most natural materials but we have offers for 199 pounds for a whole stair case .
If you're looking for a refined boutique hotel finish , choose this excellent strong elegant and cool material .
Jute Natural Stair Runners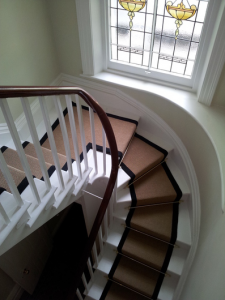 Jute brings a softer refined finish to your home .
It performs well on a rub test . This material is either offered in its natural form which is a warm stone shade or we also use it for striped stair runners . Vacuuming is particularly easy .
Its weakness is it is a bit more susceptible to dirt so Intec protection is highly recommended .
Chosen for its repute as one of the softest naturals , choose this if you like flatweave and unaffected natural beauty .
wholesalestairrunners@gmail.com
Have fun choosing !
Important safety information about our natural flooring  
Our mission is to make your the world and your home a safe place . With that mission in our hearts
All our flooring is made with :
natural dyes 
Natural backing 
No chemicals 
No vocs
Even our stain protection is eco friendly !
wholesalestairrunners@gmail.com