We love answering your unique questions about carpet runners at our email wholesaleflooring@btinternet.com
As an extra  assistance , here are the carpet runners top ten frequently asked questions we receive at www.wholesalecarpets.co.uk .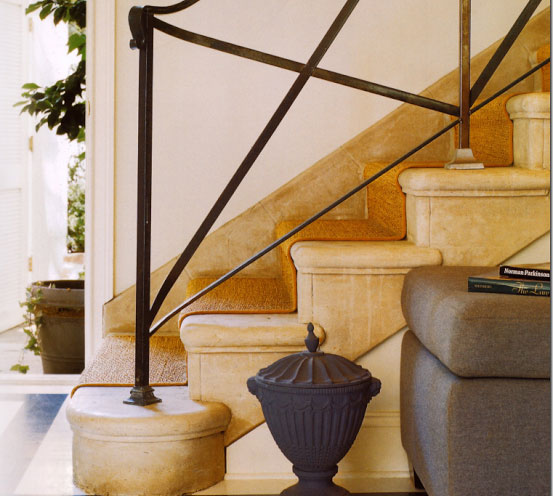 1. Do I need stair rods with my carpet runner ?
That depends on whether the staircase is straight or includes winding stairs . If it is straight we recommend our gripper and underlay package for just 39 pounds . If it is straight , we recommend stair rods and fitting your stair runner with a staple gun or tacks .
2. Do I need underlay ?
Natural flooring is highly durable and our carpet runners have a latex backing , however underlay will increase durability yet more and also improve underfoot comfort . It is only 26 pounds per carpet runner .
3. Can your carpet runners be used for winding stairs ?
Yes , all the winding stairs you see on our site are fitted from a standard carpet runner . We also offer free instructions and advice on how to make them look great . Opposite  is a winding stair job executed perfectly by one of our clients and his wife yesterday . Their selection is sisal gold with black linen border .
4. Where do I start my carpet runner ?
We suggest that you start your carpet runner under the lip of your top landing .
5. Will my carpet runner fray at the end ?
That won't happen . Here are two ways to guarantee against fraying . You can either leave the border on which we provide , or you can cut the carpet runners one centimeter too long then turn under and tack .
6. Should I staple fix the carpet runners under the lip of each stair ?
We do not suggest that you staple the carpet runners under the lip of the stairs as it will not look as perfect from the hallway view below . We recommend the 'waterfall' method as shown in the picture adjacent , where the carpet runner is pulled tight from nosing downwards .
7. Is it worth buying Intec stain protection ?
Whilst most natural materials tend to be very durable by nature , budget allowing, we do suggest the use of Intec stain protection for your carpet runners . The reasons are that the stairs are the most punished area of your flooring so they need all the help they can get. Intec is Eco friendly to your unique home and also the world . It is also used in areas of heavy wear like airports so is highly effective .
8. How do I finish my carpet runner at the bottom of the stairs ?
We suggest you cut the carpet runner one centimeter too long then turn under and tack or staple . Top tip- Sometimes when you push the last riser a little where it meets the floor you will notice it gives a bit revealing a gap . If you can make this happen you can often force the stair runner into this gap with the back of a Stanley knife creating a very high quality finish very easily.
9. How do I measure my stairs for a carpet runners ?
Its really easy with us . All you need to do is count the number of straight stairs and the number of winding stairs(if any) . No need to measure , just email us and we do the rest , we can calculate the cost using formulas .
10. Can I obtain matching material for my landings ? 
Yes , we offer matching landing material for almost all our carpet runners . We have a dedicated page showing examples of choices and you can always email us for a quote .
I hope that these answers make choosing your new carpet runner easy and a fun experience , but don't forget we are always here to help !
My email address is wholesaleflooring@btinternet.com .
Have fun choosing !